These are my favorite gifts for songwriters from this past year.
It's that time of year again.
When goodies are on sale and you're gifting for everyone in your life. If you're looking for a fellow songwriter, or just something nice for yourself, here is my 2019 round up of the coolest gifts for songwriters!
Gear
THIS. THING. IS. FREAKING. COOL.
There are so many uses for this small, wireless recording studio. Pop this bad boy in your backpack and head to your cowrite, and you'll be able to capture high quality worktapes. It's great for bands who are writing with multiple instruments, because you'll be able to all record your ideas comfortably in the same room. You can also capture some pretty great live audio for your performance videos, and up the quality of the videos on your YouTube channel.
With an app that connects on your phone, 2 XLR and quarter inch inputs, (and so much more, y'all, this is the tip of the iceberg) this little thing is an insanely powerful tool for songwriters and digital creators.
Ever sit down to write with a friend and you want to share your latest song with them, so you pull out your phone and then y'all have to listen to it through your tiny phone speakers and it's just not awesome?
A super convenient tool to keep in your writing room (and travel with) is a bluetooth speaker. Play back your worktapes so everyone can hear. If you've got an idea you want to share with your cowriters, you can play it back easily. Pull up ideas from earlier in the write when someone goes, "How did we do that again?" It's also fun to share songs that are inspiring you. Every write I've ever been in with a bluetooth speaker, it has been super handy for sharing music and notes foe everyone to hear without struggling with phones and earbuds!
Ever get on stage and there's no reasonable place to put your guitar while you set up? And you have to do that little balancing act where you lay your instrument flat on top a stool or nearby chair and you' just PRAY it doesn't fall off? BEEN THERE. Too many times! (this alone has probably taken a few years off my life!)
I love love love this seat and guitar stand combination (hi, BRILLIANT)! Here's a stool version, if that's more your cup of tea. Make it the first thing you set up and you won't have to worry about losing your instrument to a devastating fall when the sound guy shuffles past you. I'm not saying it will make you live longer, buuut… your guitar will thank you!
My dad got me one of these years ago when he handed me my first "big girl" guitar, and I've loved it ever since. They're especially useful if you rock an acoustic with a large body, where the sound may be boomy or overly bass-y sometimes. You can cut down some of that bottom end resonance with one of these effective and gorgeous covers. You can get one to match the wood of your guitar, and choose from a variety of designs. Here's mine!
If you play out a lot (or have the goal of playing longer shows), then being able to refer to your lyrics and chords is important. For my friends who have graduated from a binder to an ipad, this ipad mic stand mount is beyond handy.
Keep your chords and lyrics front and center for your gigs. You can also live stream your shows easily and hands free. It comes in a variety of sized depending on the ipad you have, so you'll be able to select the perfect fit.
I have a few of these Taylor Darktone Ultra picks and they are my FAVORITE picks. They are my preferred thickness (1mm) and are absolutely stunning. These here look just like real abalone. They also come in a few other equally as stunning finishes: Blue Swirl, and Black Onyx.
Seriously, I've managed to lose 2 of them and I was devastated! They're that awesome.
Inspiration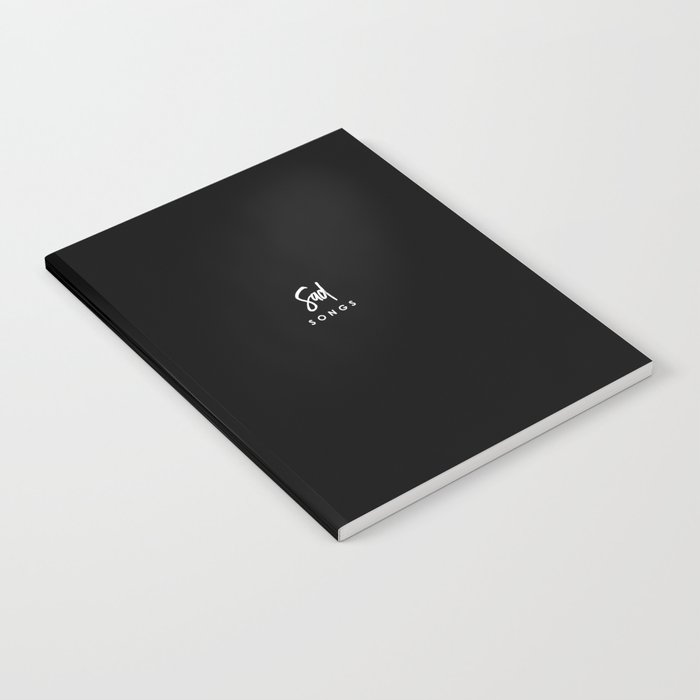 If you drift toward the dreary whenever you're writing, this notebook's for you. Black, like your soul, you can pour out your saddest lyrics and ideas in this lined journal from the SongFancy store (it's also our top seller!).
I love an inspiring notebook, which is why I designed three notebooks I wanted to see. Check out the whole SongFancy collection of notebooks: Sad Songs, Breakup Songs, and Future Hits.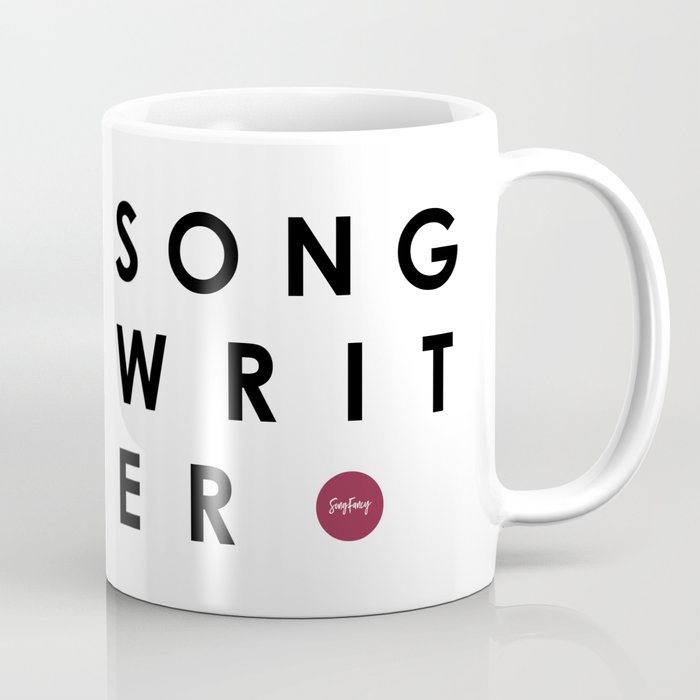 You're a songwriter, claim it with your morning coffee! Or afternoon coffee. Or evening coffee. Or before-cowriting coffee. Or… whenever you enjoy your coffee! This mug will keep you caffeinated and warm through your writing sessions. Also available in Lyricist version for my word warriors.
This book is required reading for anyone struggling with the ups and downs of being a creative and sharing your work. Do your weary soul a favor and read this book. It is medicine – not a painkiller, more like Adderall and a swift and inspiring kick in the ass. You'll want to getup and conquer after reading this. And it's the kind of book you can come to year after year – I certainly do.
This book is designed to be visually enchanting – A great song stimulates all the senses and pulls an emotional experience out of your listener. So why shouldn't songwriting prompts be just as inspiring? Inside The Beautiful Book, you'll for 80+ pages of rich songwriting prompts, gorgeous photography, beautifully designed to inspire you. Great for when you need a boost of inspiration or just a place to start!
Annoy everyone you love. They will not thank me later.
Education
I had a poster almost exactly like this hanging in all my college apartments and dorms. It was the most handy guide when I was writing. I would hear the chord I wanted to hear, but not know how to play it. All I had to do was glance up at the chart and work my way through the chord shapes until I found the one I was looking for.
It was also an amazing source of inspiration when I was writing – I would pick a chord, and integrate it into my songwriting. And of course, if you're learning a new cover song, a cheat sheet poster like this is incredibly helpful. Talk about ease of use!
The standard in music education. I learned how to play piano and guitar from Mel Bay books. This one is a great started to grab for those who are just learning how to play the guitar. Teach yourself a few chord shapes with this book, and you're off to the races!
This little guy is SO inspiring when you're looking for chord combinations that work. Push yourself to try something new by using a chord progression from the wheel. Or, if you're stuck in a song, line up the chords that you are using, and see what other chords you can mix in. It's a fabulous tool for beginning guitar players and intermediate players who are looking to try new chord progressions in their songs.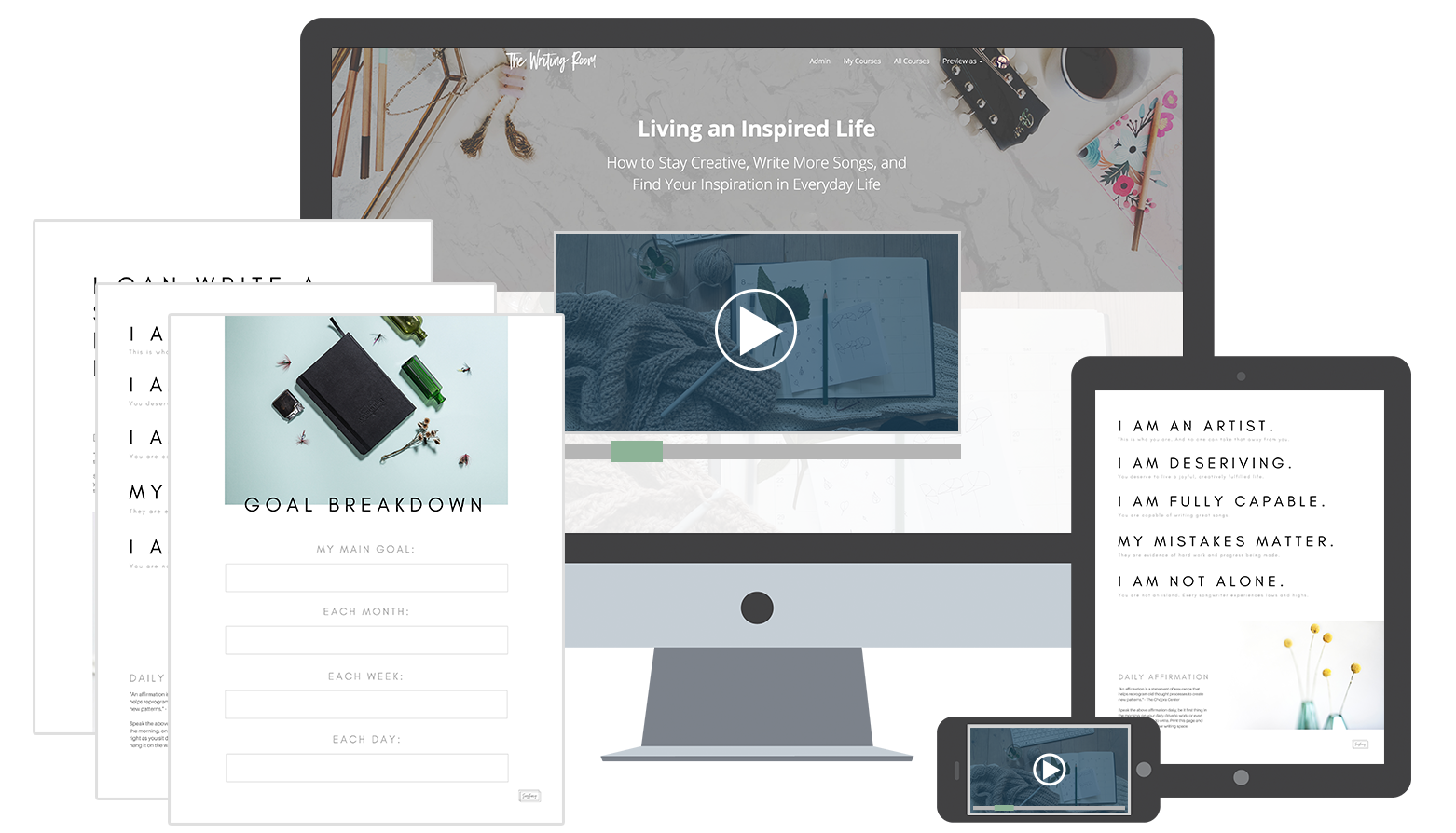 This is SongFancy's flagship songwriting course on inspiration, finding new song ideas, and getting into the creative habits of a prolific songwriter. With three modules, 14 super short video lessons, and downloadable worksheets and checklists, this course is designed to get you into good habits that leave you feeling more creative with more songwriting ideas than ever before.